The ABA's ICC Project & Stanford Law releases its most recent Arguendo, addressing the future of the US-ICC relationship.
Washington D.C., June 20, 2014 – The American Bar Association's International Criminal Court (ICC) Project and Stanford Law School Program in International and Comparative Law are pleased to announce the release of the latest online expert roundtable, Arguendo, on the next steps of the US-ICC relationship.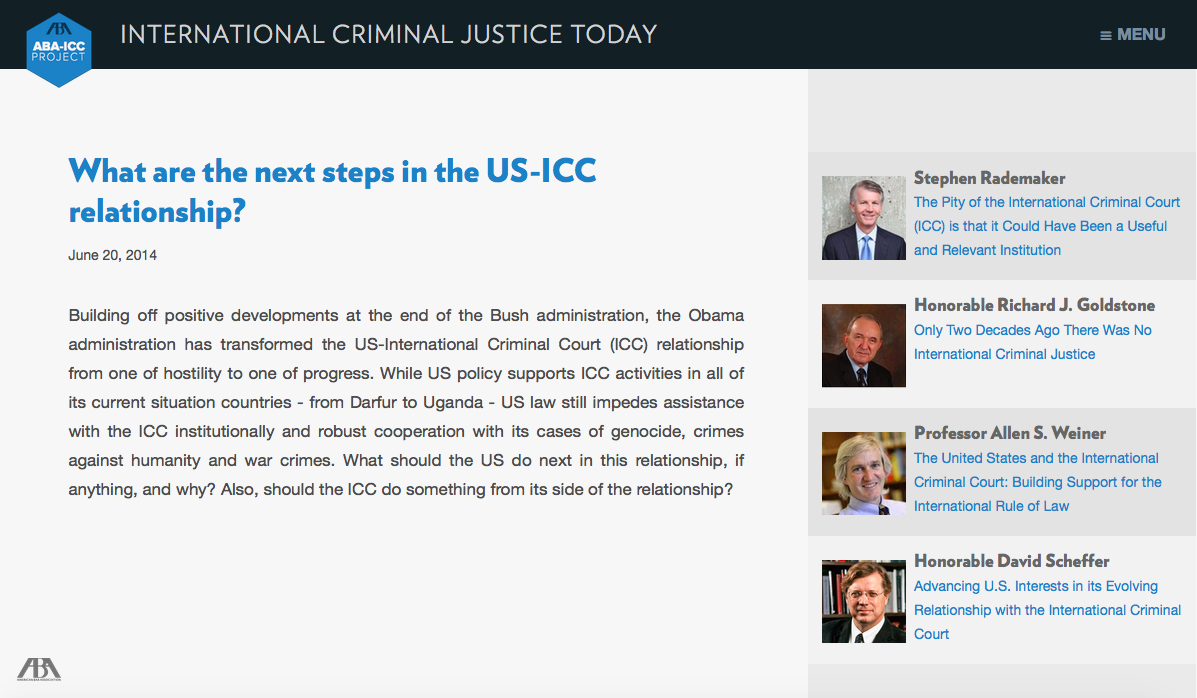 To discuss this critical relationship in international criminal justice, a highly distinguished panel was assembled: Honorable Richard J. Goldstone, former chief prosecutor of the United Nations International Criminal Tribunals for the former Yugoslavia and Rwanda; Professor Allen S. Weiner, Senior Lecturer in Law at Stanford Law School; Honorable David Scheffer, former U.S. Ambassador at-Large for War Crimes Issues; and Stephen Rademaker, government relations consultant in Washington DC.
In answering the question, "What are the next steps in the US-ICC relationship?", each Arguendo contributor put forth their opinions on the future of the United States' relationship with the ICC. In his article, Honorable Goldstone calls for the withdrawal of legislation prohibiting US funding of the ICC and an increased American presence in the ICC. Professor Weiner argued for the full commitment of the US to the ICC through the ratification of the Rome Statute, rather than offering support on a case-by-case basis. Ambassador Rapp concurs with Professor Weiner's call for ratification, adding a call for domestic enactment of crimes against humanity legislation. Mr. Rademaker highlights criticisms of the efficacy of the ICC as a justification for a continued absence of US involvement.
We encourage you to visit this latest Arguendo, and please comment with your ideas and responses.
The American Bar Association's (ABA) International Criminal Court (ICC) Project is an independent initiative of the ABA Center for Human Rights that advances international criminal justice and US-ICC relations through advocacy, education and practical legal assistance. More information about the ABA's ICC Project can be found at its website.